Showcase Dates
Third Wednesday of each month,
Buttonwood Tree Center for the Performing Arts,
7 p.m. in Middletown, Connecticut
ALL FILMS ARE FREE AND OPEN TO THE PUBLIC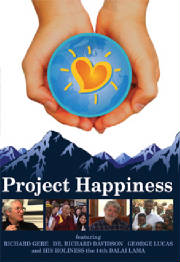 January 16, 2013
PROJECT HAPPINESS – THE DOCUMENTARY
"Too much anger, too much hatred. Affection, compassion, the sense of community, honesty, truthfulness—these are the key elements to counter mental unhappiness." — XIV Dalai Lama
"It really has to do with taking care of other people, and doing things for others rather than yourself." — George Lucas
"The reality is, we can change. We can change ourselves. We can change our minds. We can change our hearts… and therefore the Universe changes." — Richard Gere
Happiness is a universal quest. But what does it really mean? In this award-winning documentary, youth from three continents interview George Lucas, Richard Gere and neuroscientist Richard Davidson on the nature of lasting happiness. Then, they travel to India for an unforgettable private audience with the XIV Dalai Lama. Through their eyes, gain a new perspective on how to expand happiness and live a meaningful life. Authentic happiness is not only possible – it's closer than you think.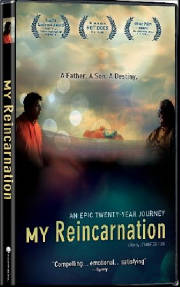 FEBRUARY 20 , 2013
MY REINCARNATION
Filmed over twenty years by acclaimed documentarian Jennifer Fox (FLYING: CONFESSIONS OF A FREE WOMAN), MY REINCARNATION chronicles the epic story of the high Tibetan Buddhist Master, Chögyal Namkhai Norbu, and his western-born son, Yeshi. The film follows Namkhai Norbu's rise to greatness as a Buddhist teacher in the West, while his son, Yeshi, recognized at birth as the reincarnation of a famous spiritual master, breaks away from his father's tradition to embrace the modern world. Can the father convince his son to keep the family's threatened spiritual legacy alive? Never before has a high Tibetan Master allowed such complete access to his private life and it is doubtful that another ever will. With her signature intimate entry to both family and icons including the Dalai Lama, Fox expertly distills a decades-long drama into a universal story about love, transformation, and destiny.
March 20, 2013
The Visitor
A 2009 drama set in Connecticut and New York City starring Richard Jenkins who was nominated for an Oscar for his portray of Walter. Come see why Walter could be a modern day Bodhisattva- Inclusion of The Visitor in the year's CT Buddhist Film Festival is the beginning of showing films that while not obviously outwardly Buddhist, depict Buddhism in action.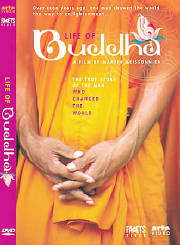 April 17, 2013
Life of Buddha
The quest for enlightenment known as Buddhism is rapidly attracting followers in the western world today. His Holiness the Dalai Lama is a best-selling author and his personal appearances in the U.S draw huge crowds. Popular films such as LITTLE BUDDHA, KUNDUN, and SEVEN YEARS IN TIBET have also fueled American curiosity. LIFE OF BUDDHA breaks new ground in revealing the fascinating story of Prince Siddhartha and his spiritual transformation into the Buddha, the great teacher who changed the entire world. This beautifully produced DVD, featuring nearly an hour of additional materials from the world's leading Buddhist scholars and spiritual leaders, is a must-see for anyone seeking answers to life's mysteries.
http://movies.nytimes.com/movie/303642/The-Life-of-Buddha/overview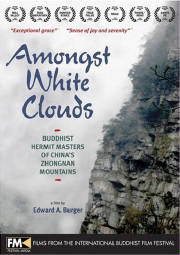 May 15, 2013
Amongst White Clouds:
Buddhist Hermit Masters of China's Zhongnan Mountains
Only a few foreigners have lived and studied with these elusive practitioners, American director Edward Burger is able, with humor and compassion to present their tradition, their wisdom, and the hardship and joy of their everyday lived among the clouds.